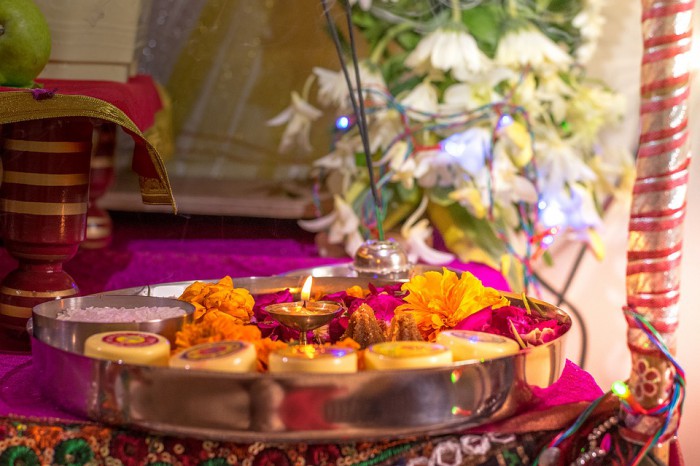 Satyanarayana Katha
is related
to Lord Vishnu (the Preserver). HE is one of the great three Hindu Gods. The name of Satyanarayana is a combination of two words. 'Satya' meaning "Truth" and 'Narayana' being the "the HIGHEST BEING who upholds Truth." Hindus perform this Katha to achieve success in business or careers in all part of the globe. The Satyanarayana Katha is also performed during house warming ceremonies. Other occasions are marriages and naming ceremonies of children.
In this article on where can you book online Pandit services for Satyanarayana Katha, we give the best options
.
In recent times, it has become a hassle to find the right pandits for performing any types of ceremonies. You have to depend on references or established listing websites. But some online companies such as Bro4u have come with a rare initiative. Our online platform provides Pandit services as per your convenience. Bro4u's Puja & Pandit services has got good ratings among India's best online Puja booking portals. You can also
book our online Pandit services for other types of religious events
such as
Likewise, you can also book of other homas for –
Every Pandit and Purohit in our list are from reputed Veda ashrams or patashalas. They can perform the pujas as per the traditional methods.
Where Can You Book Online Pandit Services For Satyanarayana Katha
Are you in the search for a reputed Pandit for conducting Satyanarayana Katha in your home? Do you have a great occasion at home? Please read the next paragraph.
Placing A Booking
The process is very easy. Download the popular Bro4u app. Enter your location and find a reputed Pandit service with a few clicks.
1. You can scan the profiles of Puja performing Pandits
2. You get to know their qualifications, review their previous customer ratings and reviews.
3. You get the rare opportunity of selecting the best pandit as per the budget and place a booking request.
4. You also get a call from the concerned Pandit before the scheduled date to confirm the booking order.
5. You can discuss your needs about the Satyanarayana Katha and clarify the doubts.
6. You can also schedule a prior meeting with the Pandit at your desired location.
What more do you need to make the religious event a grand success?
Please find below the popular Bro4u app link for easy and instant booking of the best Pandits in Hyderabad, Bangalore and Pune
.